Telehealth, Online Programs Could Boost Access to Needed Mental Health Care
by Lisa Zamosky, iHealthBeat Contributing Reporter, iHealthBeat, Thursday, October 22, 2015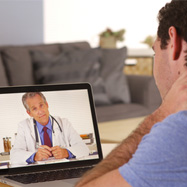 Technological tools used to diagnose and treat mental health issues may help to offset barriers that continue to prevent millions of Americans from getting the care they need.
Nearly 60% of adults with a mental illness fail to get treatment each year, according to the National Alliance on Mental Illness. The use of telemedicine is proving to be an effective way to reach underserved groups, as well as to improve care coordination and connect people to peer support. Although use of this technology is not yet widespread, the market is growing.
According to the American Psychological Association's Center for Workforce Studies, practitioners' use of videoconferencing with clients increased from 2% in 2000 to 10% in 2008. Further, consumers increasingly are tapping into a range of mobile applications designed to screen for anxiety and depression, manage stress, gain on-the-go access to self-help resources and help people with suicidal thoughts seek help. Other tools help people track their mood and share the information they capture with their health care providers. And apps, like the Department of Veterans Affairs' PTSD Coach, help people manage symptoms that are common after experiencing a trauma.
Reaching People Virtually
Many experts see technology -- such as videoconferencing tools that virtually connect patients with mental health professionals and online programs that can be personalized to an individual's needs -- as a necessary tool to reach people in need of care. So far, the research seems to support the notion that these methods of treatment are effective.
"Can you do psychotherapy in a traditional sense when you're not face-to-face in the same room? Most research suggests it's generally as efficacious," said Josh Klapow, a clinical psychologist and chief behavioral scientist with ChipRewards, a behavioral science-based technology company.
A 2012 systematic literature review published in the journal Psychological Science found that videoconferencing psychotherapy has similar clinical outcomes to traditional face-to-face psychotherapy. The study also found that patient satisfaction with telepsychology is generally high.
According Pat Basu, CMO at telehealth company Doctor on Demand, once patients try the service, they often come back for a repeat visit. The average patient has roughly five visits with a licensed psychologist on Doctor on Demand, Basu said.
Technologically-based treatments that connect patients with online mental health programming, rather than with trained professionals, appear to be highly effective as well. Such technology has been used widely to provide care to war veterans.
VA estimates that between 11% and 20% of veterans who have served in Iraq or Afghanistan suffer from post-traumatic stress disorder, and most of those individuals fail to get help.
A former Navy pilot launched Prevail Health six years ago to address depression, PTSD and substance misuse among war veterans. Participants connect with trained peers in an online chat and then are prompted to answer a series of questions that allow the company's technology platform to develop an online care plan tailored to the individual's needs. A "Siri-esque" avatar named Amber makes suggestions or answers questions, according to Irving Steel, business developer with Prevail Health.
Validated by two clinical trials and tens of thousands of users, Prevail's programs have been shown to be as effective as traditional therapy. The company has recently expanded its offerings to civilians.
Eliminating Barriers to Mental Health Services
Last year, nearly 91 million adults lived in areas where shortages of mental health professionals made getting treatment difficult, according to HHS. A department report to Congress earlier this year found that 55% of the nation's 3,100 counties have no practicing psychiatrists, psychologists or social workers. These shortages are expected to grow, particularly as the Affordable Care Act expands insurance coverage that enables more people to seek help.
While insurance coverage and, in some cases, no-cost court-ordered treatment may give people the ability financially to seek care, that coverage does them no good if there are no mental health professionals in the area, according to Timothy Elliot, a professor with the Department of Educational Psychology at Texas A&M University.
Technology offers hope in reducing health disparities among people living in rural areas who would otherwise have no access to care.
Elliot said in his experience videoconferencing has proven effective among low-income populations living in rural parts of Texas who have little ability to travel. Further, for people living in small rural towns, the ability to speak with a mental health professional via the internet helps reduce barriers such as the stigma of doing so.
"In rural and small towns, one of the things that has impressed us is that residents become very comfortable with the technology very quickly. They take comfort from the fact that they can see a therapist they won't bump into at church or Walmart," Elliot said.
The ability to expand services with the use of technology may also be important when it comes to controlling system-wide health care costs.
NAMI estimates $193.2 billion in lost earnings each year due to mental illness. Mood disorders, including major depression, are the third-most common cause of hospitalization in the U.S. for children and adults between the ages of 18 and 44.
Arming Health Systems
Technology-based tools also are helping health systems to expand care teams and better integrate mental health providers with medical teams.
In addition to making psychologists and psychiatrists available directly to consumers, Doctor on Demand provides coverage for hospitals and clinics. In the emergency department, Basu said, the availability of a psychiatrist to conduct an evaluation online eliminates long waits for patients. "Patients would otherwise wait 15 to 18 hours for a psychiatrist to either clear them or admit them," he said. "It's wonderful for the patient and for the health system."
Companies like e-Psychiatry and Regroup Therapy virtually provide trained clinicians to health systems.
Stephen Maddaloni, co-founder of e-Psychiatry, said, "Right now we place mental health professionals at hospitals, mental health clinics, as well as other health care facilities," adding, "We provide a platform by which we can significantly alleviate the nationwide shortage of mental healthcare providers."
In a primary care setting, the integration of mental health services can be invaluable, according to David Cohn, Regroup Therapy's CEO. "You may be in a [mental health professional] shortage area and go to a primary care doctor who knows you need to talk to somebody. Instead of giving you a referral that he knows you'll never use, he's able to walk you to the room next door where the laptop is sitting to introduce you to a member of the care team right now," Cohn said.
Moving Ahead With Caution
Klapow says there's no doubt that technology can boost access to needed mental health treatment. However, he says he's reserving judgment on how technology-delivered therapy compares with in-person care, especially with regard to the therapeutic relationship between the patient and therapist.
He said, "For long-term therapy, the jury is still out."