Telepsychiatry for Correctional Facilities
e-Psychiatry uses telemedicine in the field of telepsychiatry to contract with Prisons, Jails and Correctional Facilities wanting to use telepsychiatry. e-Psychiatry can provide your Correctional Facility recruitment and staffing of a psychiatrist with telepsychiatry. e-Psychiatry also provides free telepsychiatry consulting and technical services to our clients.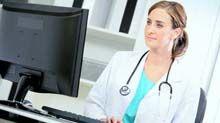 e-Psychiatry can provide your Prison, Jail and Correctional Facility telepsychiatry recruitment and staffing services by providing a psychiatrist, PMHNP, PA, psychologist, therapist or other mental health provider at your facility. We charge no upfront fees for recruitment and staffing and no fees for our telepsychiatry consulting and technology. We charge a straight hourly rate for the hours worked by our providers. Hourly rates will vary depending on the type of provider used. Telepsychiatry can provide your clinic with the following:
Keep Doctors from coming in Direct Contact with Inmates


Guaranteed Mental Health Care Given in the Most Appropriate Setting


Increase Access at a Lower Cost of Care


Reduced Gaps in Care
Contact us today to see how we can benefit your patients.
Click to view a sample of our Telepsychiatry Program Requirements
Telepsychiatry Consulting for Jails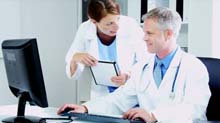 e-Psychiatry provides free telepsychiatry consulting to our clients who utlize our recruitment and staffing telepsychiatry services. If you already have a provider that is willing to provide telepsychiatry services for your clinic but you need help in the setup and implementation of telepsychiatry at your facility; e-Psychiatry has years of experience in the telemedicine field and can provide you telepsychiatry consulting and technical services.
Prices will vary depending on the type of assistance needed. Contact e-Psychiatry for a quote on services. e-Psychiatry can provide you with the following for the setup and implementation of telepsychiatry:
Telepsychiatry Hardware and Software


24/7 Technical Support


Develop Cost-Effective and Efficient Telepsychiatry Program


Develop a Telepsychiatry Model to Achieve the Best Performance


Coding and Billing for Telepsychiatry


Telepsychiatry EHR/EMR


...And Much More


Links of Interest about Telepsychiatry