Emergency Telepsychiatry
e-Psychiatry uses telemedicine in the field of telepsychiatry to contract with Hospitals and Emergency Departments wanting to use emergency telepsychiatry. e-Psychiatry can provide your hospital recruitment and staffing of a psychiatrist with telepsychiatry. e-Psychiatry also provides free telepsychiatry consulting and technical services to our clients.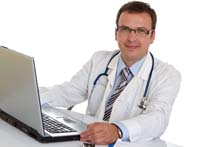 e-Psychiatry can provide your Hospital and Emergency Department telepsychiatry recruitment and staffing services by providing a psychiatrist, PMHNP, PA, psychologist, therapist or other mental health provider at your facility. We charge no upfront fees for hospital recruitment and staffing and no fees for our hospital telepsychiatry consulting and technology. We charge a straight hourly rate for the hours worked by our providers. Hourly rates will vary depending on the type of provider used. Telepsychiatry can provide your clinic with the following:
Add a Value-Added Telepsychiatry Program for your Patients


Differentiate Hospital with a Telepsychiatry Service.


Guaranteed Mental Health Care Given in the Most Appropriate Setting


Increase Access and Profit at a Lower Cost of Care


Assist your Patients in Lowering their Mental Health Care Costs


Reduced Gaps in Care
Contact us today to see how we can benefit your patients.
Click to view a sample of our Telepsychiatry Program Requirements
Telepsychiatry Consulting for Hospitals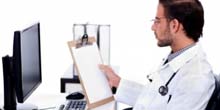 e-Psychiatry provides free telepsychiatry consulting to our clients who utlize our recruitment and staffing telepsychiatry services. If you already have a provider that is willing to provide telepsychiatry services for your hospital but you need help in the setup and implementation of telepsychiatry at your facility; e-Psychiatry has years of experience in the telemedicine field and can provide you telepsychiatry consulting and technical services.
Prices will vary depending on the type of assistance needed. Contact e-Psychiatry for a quote on services. e-Psychiatry can provide you with the following for the setup and implementation of telepsychiatry:
Telepsychiatry Hardware and Software


24/7 Technical Support


Develop Cost-Effective and Efficient Telepsychiatry Program


Develop a Telepsychiatry Model to Achieve the Best Performance


Coding and Billing for Telepsychiatry


Telepsychiatry EHR/EMR


...And Much More


Links of Interest about Telepsychiatry