Telepsychiatry Practice
e-Psychiatry can assist you in bulding your own telepsychiatry practice at your hoome, office or clinic!
e-Psychiatry has telepsychiatry consultants which can help with setup of your telepsychiatry practice. We can also assist you with your patient base if you have a new practice and are just starting out. e-Psychiatry currently out ranks
LivePerson.com, CloudVisitTM.com and all other competition
in Google and other search engines for terms related to "online psychiatrist" and "telepsychiatry". e-Psychiatry receives 100's of emails a month requesting telepsychiatry services. If you are just now learning about telepsychiatry and would like for us to help you intergrate telepsychiatry into your practice to grow a patient base, e-Psychiatry can provide you with the tools and marketing you will need.
e-Psychiatry...
Provides all marketing to help you grow your telepsychiatry practice


Assists you with the setup of your Hardware and Software


Gives you a customized EMR and Profile Page


Understands the law and what is needed for your telepsychiatry practice


Provides you with the Telemedicine Equipment you need in order to run a successful telepsychiatry practice


Has HIPAA Compliant video conferencing software and EMR
e-Psychiatry's patient volume is growing everyday!
We are currently the leader in online psychiatry services. We make adding telepsychiatry to your practice quick and easy. You will be provided with a customized profile page that potential patients can view and sign up through. You will have access to our EMR where you can set and view appointments and keep detailed records for you patients. We can provide you with several options for video conferencing equipment and software. Contact Us at Consultant@e-Psychiatry.com today to receive a tour of a sample Proflie page and our EMR.
e-Practice Pricing

e-Practice can help you extend your reach by seeing patients that would not normally be able to travel to your office. We can provide you with the hardware and software, consulting and support, customized profile, EMR access, and access to patient base!
Please take a look at our Telemedicine Consulting pamphlet to see how e-Psychiatry can help youu build your telepsychiatry practice.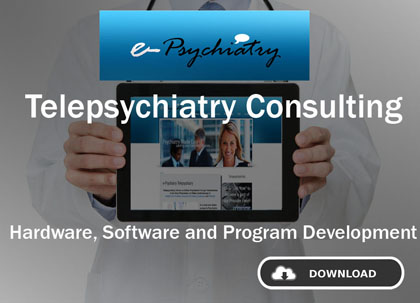 Contact Us at Consultant@e-Psychiatry.com to get an estimate and get started building you e-Practice TODAY!
Links of Interest about Telepsychiatry